#ReadThisFIRST: Hints. Rumors. Lies. Truth. Allegations. Stuff.
Ever wash your wallet?
Leather wallet?
Yeah that was Wednesday night. It's Friday morning and it's still wet.
Yup. Life. It's a thing. :-)
Let's get into life for today... thanks for choosing to #ReadThisFIRST.... let's get into it!
YES OR NO... would you consume this???
Did you know today is Go for Broke Day? A day to get out of your comfort zone and go for that thing you've been wanting to do, see, or achieve. It's also National Deep Dish Pizza Day: A good day for a Chicago-style slice.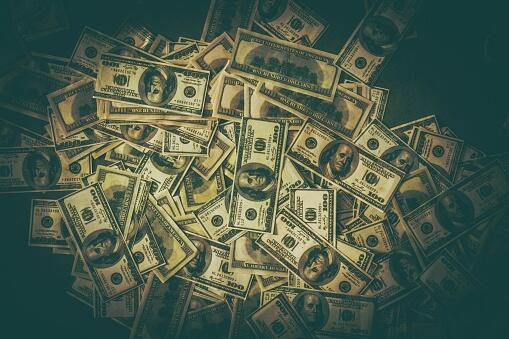 @gettyimages
What is your biggest money worry? According to a new survey, for most Americans, it's being able to save enough for retirement. Maybe that's why more people are saving than spending. The same survey found that most people describe themselves as savers (56%) rather than spenders (40%).(Survey Monkey)
Speaking of money … Seems lots of men don't believe the gender pay gap is real. Even though research shows that a woman make 81 cents to a man's dollar, nearly half of men surveyed said they think the pay gap doesn't exist. 46 percent of male respondents said they think the gender pay gap is "made up to serve a political purpose." 31 percent of men think media coverage of the page gap as "overblown," and 21 percent called it "fake news." (The Ladders)
And even more about money … A new study from Yale and Oxford found that exercise will make you happier than money. In fact, researchers found that people who exercise feel just as good as people who don't exercise – but make around $25,000 more a year. Basically, you need a whole lot of money to make you feel as good as exercise does.(Insider)
And, yes, money again … A new survey has revealed the top reasons men haven't proposed yet.You guessed it – money. 27 percent of men said their current income was preventing them from proposing. 26 percent said their debt was stopping them from getting engaged. 17 percent said their partner's debt had them putting on the brakes. And another 17 percent said the cost of the wedding was keeping them from popping the question. Can't really blame them on that one. According to a wedding study, the average wedding costs $44,000.
The survey also found that 50 percent of men said finding the perfect ring was a major source of stress, and 40 percent of guys said their partner's expectations were too high when it came to a ring. (Cosmo)
The weekend is upon us – which means you may be heading out to a bar or club in search of some action. If you are – this might help your chances.
A recent reddit thread asked women to reveal the things that guys think are cool … but are really a turn-off. Here are some of the responses …
Trying to hit on a woman by telling her how unattractive you find other types of women (i.e. telling a bigger woman how ugly you think skinny women are).
Bragging about the fights you've been in.
Bragging about your sex life.
Bragging about drinking.
Bragging in general.
Frowning or trying to look tough in profile photos.
Photos of your junk.
Wearing too much cologne.
Talking crap about your "crazy" ex-girlfriends.
Being "too cool" to do something.
MILLIONAIRES SPLURGE ON THE SAME STUFF: According to a new study, millionaires splurge on a lot of the same stuff. The majority of millionaires splurge on:
Travel
Food and eating out
Cars
Wine
Clothes
What's on TV this weekend? Well.... THIS STUFF:
FRIDAY TALK SHOWS:
Jimmy Fallon has Taraji P. Henson (The Best of Enemies),Jason Clarke (Pet Sematary), comedian Nate Bargatze
Stephen Colbert (repeat) has Hank Azaria, Henry Louis Gates Junior
Jimmy Kimmel has singerCeline Dion, actor Chris Tucker
James Corden (repeat) has Ray Romano, D'Arcy Carden,Lukas Graham
Seth Meyers (repeat) has Alexandria Ocasio-Cortez,Andrew Rannells,Carla Lalli Music
Ellen DeGeneres has Minnie Driver (Speechless), music byMaren Morris
Live With Kelly and Ryan has Kelly Clarkson (The Voice),Emilio Estevez(The Public)
The View has Zachary Levi (Shazam!),Kiernan Shipka (The Silence)
The Talk has Reba McEntire (ACM Awards), actress Lisa Whelchel
FRIDAY PRIMETIME:
Fresh Off the Boat Eddie ships off to Taiwan for the cultural exchange program and ends up separated from his group. (ABC) 
Speechless J.J. attempts to make a good impression on Izzy's parents. (ABC)
20/20 After being found naked, beaten and unconscious by a utility worker, a 21-year-old woman who had been staying in a nearby Miami airport hotel finds she has no memory of her attack and rape. (ABC)
MacGyver When Nicholas Helman resurfaces to carry out a killing spree, the team is forced to get help from the one person who knows him best -- his protégé, Murdoc. (CBS)
Hawaii Five-0 When the team must locate a girl who purchased a gun from a junkie, it discovers that the firearm, over the course of decades, has affected all of the teammates' lives. (CBS)
Blue Bloods Frank must decide about implementing a more rigorous fitness test after an officer has trouble keeping up with his partner. (CBS)
Blindspot The team races against the clock to save one of its own. (NBC)
The Blacklist The task force investigates an international conspiracy. (NBC)
Dateline NBC Two young girls are snatched while riding their bikes. (NBC)
Last Man Standing When Mike and Ryan both try to make plans to spend time with Boyd, Boyd recommends that the three of them go on one trip together. (FOX)
The Cool Kids Sid is able to meet with his teen idol with some help from Margaret. (FOX)
Proven Innocent The team works to exonerate a transgender woman who was convicted of killing her transgender friend, an activist. (FOX)
Crazy Ex-Girlfriend (two episodes)1. (series finale) Rebecca makes a life-changing decision about her future. 2. The cast of the critically acclaimed series will perform live versions of fan-favorite songs along with incredible staging, multimedia visuals and a live band and orchestra. (CW)
SATURDAY PRIMETIME:
American Idol (repeat) The top 20 finalists perform. (ABC)
20/20 (repeat) Investigative reporting. (ABC)
2019 NCAA Basketball Tournament - Auburn vs. Virginia and Texas Tech vs. Michigan State. (CBS)
Dateline NBC (two repeat episodes) 1. Following a sudden marriage, a murder exposes a mystery. 2. A twisted story emerges after an Army veteran disappears. (NBC)
Saturday Night Live (repeat) A classic episode of the long-running sketch comedy series. (NBC)
MasterChef  (repeat) The cooks split into teams and make as many English trifles as possible in less than 20 minutes. (FOX)
9-1-1 (repeat) The First Responders come together in preparation to find a missing Maddie. (FOX)
SUNDAY PRIMETIME:
American Idol Ten finalists perform duets with celebrity partners as the search for the next superstar continues. (ABC)
Shark Tank A traditional handheld Argentinian snack; a smart security product that helps keep intruders out. (ABC)
54th Academy of Country Music Awards Honoring achievement in country music at MGM Grand Garden Arena in Las Vegas; Reba McEntire hosts. (CBS)
World of Dance Upper teams face off in elimination duels. (NBC)
Good Girls Beth and Dean experience growing pains with their new roles. (NBC)
The Simpsons Marge becomes director of Springfield's local theater, armed with Lisa's "Hamilton"-styled script. (FOX)
Bob's Burgers Bob encounters one of his personal heroes, a free-spirited radio disk jockey who will do anything to prevent himself from being compromised. (FOX)
Family Guy (two repeat episodes) Peter is given the position of the next White House Press Secretary. 2. Brian becomes concerned about the legacy that he could leave behind. (FOX)
Supergirl (repeat) With his P.I. shingle newly hung outside his office, J'onn welcomes new clients. (CW)
Charmed (repeat) With life seemingly back to normal, Parker tips off Maggie to a mysterious death on campus that might be of demonic nature. (CW)
Killing Eve (season premiere) Eve is reeling from her act of violence against Villanelle and doesn't know whether she is alive or dead. (AMC, BBC)
A Discovery of Witches (series premiere) In Oxford's library, American historian and reluctant witch Diana Bishop unwittingly calls up an ancient magical manuscript. (AMC, BBC)
The Chi (season premiere) Brandon deals with an unfortunate turn of events that takes him back to Reg. (SHO)
Veep At an Aspen retreat for rich donors, Selina deals with potential adversaries and allies. (HBO)

Toby Knapp
Want to know more about Toby Knapp? Get his official bio, social pages & articles!