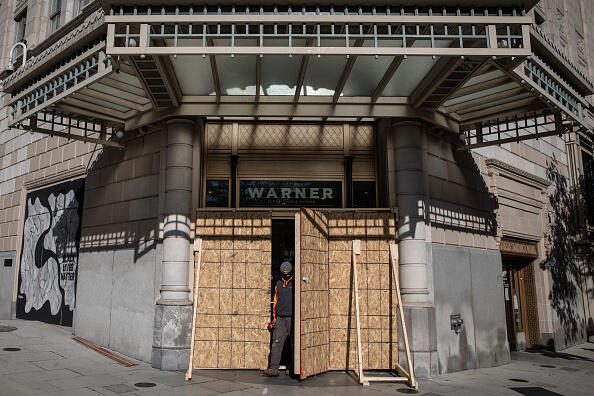 @gettyimages
I've never seen anything like this in my life.
I've worked in some of the biggest markets in the country... and some of the smallest. Some of the most blue... and some of the most red. I've never seen anything like businesses boarding up their storefronts to protect what's inside... from whatever might be going on outside... because of a presidential election.
This... is America?
Maybe for now, for a moment, but I hope to GOD that we get past this sooner rather than later.
Ours is not a perfect democracy. We're still rather young, when it comes to the scope of history... and as such, we've got stuff we're growing through and this could be one of those 'growing pain' moments. But an election is not a hurricane - or a blizzard. It's an exercise of the most powerful 'thing' we as Americans have... our right to vote.
But for some reason, these days, there's a real fear about things. And I get it. And that fear is manifesting itself in buildings and storefronts boarded up. In barricades around buildings... including the White House.
I don't get it. We don't hide behind walls in America... we certainly don't hide behind walls and plywood...
My hope is that when we get through this, we can come back together... we can work to heal the wounds which have clearly divided us for far too long... and we can get back to be the United States of America.
Democracy is what we do. Elections... are what America... is. We do this better than most... and we'll do this again... and we will indeed get through this because this too... shall pass.
Finally, to those working at the polls, counting votes, staying up all night to make sure our election is free... and fair... and that all of these votes get counted... thank you. YOU are democracy's front line workers... and what you are doing now is perhaps more important than ever before.
Thanks for reading...
#LoveFromToby
tk@iheartradio.com